Your Humble Plumbing Experts
We will be glad to answer your questions, feel free to use our online booking system to book an appointment. We look forward to working with you.
A Plumber Humble TX you Can Count On
At Pillar Plumbing, we want to give you the best experience possible! We are prepared to answer all of your plumbing questions before beginning any work, we want you to be comfortable and aware of the plans we have created for your specific needs. Residents in Humble no longer need to worry about having a terrible experience with plumbers, Pillar Plumbing is here to eliminate all plumbing concerns!
Our Humble plumbing team offers fair pricing and quick response times, we understand that plumbing concerns are some of the most immediate emergencies homeowners deal with. We cater to you as quickly as possible and recognize the stress plumbing difficulties can cause! Call Pillar Plumbing today or book an appointment online, we look forward to building a relationship with our Humble residents.
If you are looking for a reputable and licensed Humble plumber, Pillar Plumbing is the one you can trust. We are a family owned business that has been operating since 1949, we have extensive knowledge in all plumbing services. We offer a wide variety of services such as water heater repairs and replacements (tankless and tank style), sewer repairs, drain cleaning, slab leaks, bathroom remodels, water treatments, and more! We are highly trained professional plumbers that are proud to serve the Humble area. We raise our families, play, and pray in the Humble area, we love our community and take pride in serving our community and surrounding areas. At Pillar Plumbing we understand that pluming issues cause a great deal of stress but our trusted plumbers can ease that stress and guide you through all of your plumbing troubles. With our extensive knowledge and training you can rest assured that your plumbing needs will be taken seriously and handled with the utmost importance.
Pillar Plumbing of Humble, TX has over 500 star reviews, check them out for yourself and see what all the rave is about! We treat your home how we would treat ours, we wear shoe coverings when entering your home and always leave it cleaner than we found it. Humble residents can trust that our professional plumbers will get the job done right the first time all at a competitive price, we strive to be the best! Humble, TX residents can be confident that Pillar Plumbing will be honest, courteous, professional, and fair. If you think you might have a plumbing issue don't wait to call Pillar Plumbing, we are eager to serve your family and provide you with a five star experience! We understand that plumbing can be stressful but when you hire a reputable plumbing company such as Pillar Plumber you can trust that we are going to ease your plumbing stresses, we want to gain your trust and have you as a customer for life! That is our goal and that is why we treat each Humble, TX resident like family, we want to ensure that you are satisfied with the work completed. Over the years we have worked with thousands of homeowners and tailor to their specific needs as we understand that every household is different based on their budget and lifestyles.
Pillar plumbing is a honest reputable plumbing company in Humble, TX and we will never suggest a replacement unless we are certain that is what you need, we will always be honest and upfront about what we think is best. We want all our customers to feel confident in the decision they make which is why we always include our customers every step of the way, we will never blind side you with hidden fees. Pillar Plumbing provides a 100% client satisfaction guarantee we will not leave until you are completely satisfied with the work. We also offer great warranties and actually stand being the warranties offered. Our licensed Humble plumbers offer extensive services and we are an expert in them all, we continue our education to make sure we are up on the latest technology plumbing has to offer. Don't hire just any plumbing company, hire the best plumbing company. Pillar Plumbing can handle all of your plumbing needs, give us a call today! When you call and schedule a service you will receive an email and text confirmation with your appointment information as well as a text when the technician is on his way, and when he arrives. Pillar Plumbing offers fair upfront pricing with options for any job and you can count on our work being completed with products and workmanship above industry standards! At Pillar Plumbing we always get the customers final approval and we send an emailed invoice on all work completed and the payment amount. This is all done with an attention to detail on each and every project! We want to leave our Humble, TX residents with a five star experience, that is our goal each and every time! We would love to be your professional plumber in Humble, TX, you can trust that we can handle any job no matter how big or small! Give us a call today to schedule your service call and allow us the opportunity to present you with the best options for you plumbing needs! We look forward to gaining your business and trust.
With our plumber Humble TX team we will not begin any plumbing work until you have approved our plan to resolve your plumbing issue and have clarified the pricing. We have fair, upfront pricing without any hidden fees! Whether your home is in need of having a busted pipe repaired, a leaking hot water heater, or installing a new bath tub, Pillar Plumbing has you covered! Pillar Plumbing are experts in all plumbing areas, check out our over 250 five star reviews to see what our customer's are saying about our highly qualified experts!
We understand how important a trusted plumber can be to Humble residents; therefore, we strive to safeguard our customers' convenience and comfort with reliable plumbing services. We only hire prescreened, experienced, completely qualified technicians to meet or exceed the highest industry standards.
We are the plumber Humble TX relies on because:
We talk to our clients before starting work.

We keep clients informed of our progress.

We guarantee 100% client satisfaction.
These values complement each task we perform.
It doesn't matter how complex your plumbing project, you can rely on us until the task is done correctly. Please don't wait to get our services today. Book with us now!
Contact Our Plumbers Today and Get A Quote!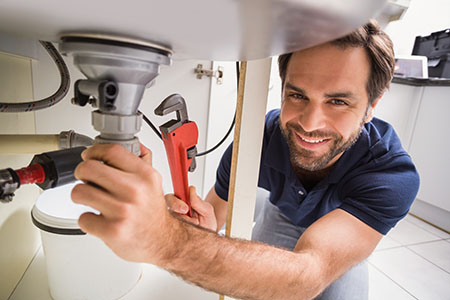 If you need plumbing services in Humble TX for your business or home, Our plumbers in Humble TX are here to help you. With many years of experience, we have everything necessary to get the task done correctly every time. Whether you have a leaky faucet, defective garbage disposal, busted water heater, broken pipe, or some other plumbing problem, we will provide an effective and fast solution. We tackle any plumbing issues.
At Pillar Plumbing, our plumbers Humble TX loves consider a significantly different approach than you are used to. To deliver the absolute best customer experience, we don't merely provide exceptional finished work and high-quality products: we go the extra mile when it comes to treating you and your house with respect. 
Our Humble plumber team is dedicated to:
Listening to you and keeping you informed

Consistently being on time

Showing up ready and uniformed to work

Carrying the essential gear for the task

Keeping a neat workplace

Leaving your home clean 
We will find the safest and cleanest way to thoroughly and efficiently finish your project.
When you hire a plumbing company, you should get a company that you can trust. And our company is one of the most trusted plumbing companies in Humble TX. Our licensed sewer and drain specialists have decades of professional experience you can depend on. Not only are we trustworthy, we are priced fairly too. Let a plumber Humble Texas has depended on for years install and restore your plumbing systems today!
Our business policy keeps an effective and efficient quality of work with all of our customers; we appreciate the value of the continuous education and training. We set and develop our goals and objectives consistently year after year. We strive to continuously get the results that exceed our client's requirements, satisfaction, and expectations.
At Pillar Plumbing, we are proud to offer plumbing Humble TX has loved for years. Whether you require new installations, expert repairs, or routine maintenance, the plumber Humble Texas can count on has all you need to get the task done correctly. Our commitment to offering clients the highest standards of finish-work and service is unstoppable, and we do everything in our power to ensure that the job we do is long-lasting, reliable, and complete.
For many years, our company has been providing excellent plumbing services. We believe that developing a lasting and reputable company is an enormous part of building strong relationships with our customers.
If you searching for a group of plumbers in Humble TX that will manage it all, call Pillar Plumbing! With our years of experience in the business, we have the expertise and information to offer you plumbing Humble TX residents can love and rave about. Whether you have to unblock a drain, change a sink fixture, or install a brand new water heater, we are the plumber Humble residents believe in to make sure the task is done correctly the first time. We take great satisfaction in providing the best work in the area, with the most competitive rates. Call us today and find out for yourself!

Pillar Plumbing covers the Humble area of Greater Houston, expanding the third generation family business. While having a reliable plumber might not have seemed too important at one time, after the storms of February 2021 Texans now really appreciate them. Finding a plumber in Humble, TX during this time was incredibly difficult but thanks to Pillar Plumbing's online booking system and live CSR agents taking calls they were able to get hundreds of people scheduled that otherwise would have been in in a period of doubt and waiting.
The unexpected storms that hit Texas left damage that the state is still recovering from. Over 200 people sadly lost their lives, while 4.5 million Texans had no electricity and over 13 million had to boil their drinking water due to water line breaks and power disruptions affecting water treatment plants.On a smaller scale, many homes had burst pipes and other plumbing issues as Texan houses were not prepared for the record low temperatures.
The bad news is that Texas might be having a repeat of the unusually low temperatures this winter. The Farmer's Almanac has given this warning "In the Southern Great Plains, including Texas and Oklahoma, we are sorry to report that late January may bring some potentially frigid and flaky weather like you experienced last winter. Hopefully, it won't be as robust, but it doesn't hurt to be prepared." So what can Texans do to be prepared?
Some sensible steps to take are cleaning out and repairing gutters, having your furnace serviced, sealing any gaps and cracks and insulating any outside pipework. It makes sense to get your heating and air conditioning systems checked, especially if you haven't had the filters changed recently. It's worth preparing for the worst and making sure you have candles, plenty of warm blankets and a camping stove.Another good tip is to make sure you know how to turn off the water supply to your house and that you can do so quickly. That way if you do suffer from leaking pipes you can minimise the damage.
Pillar Plumbing is happy to help customers old and new prepare for winter. Their philosophy is that no job is too big or too small and they cover all services and products in residential plumbing and commercial plumbing, from a leaky faucet up to whole home repipes. Pillar Plumbing was founded by a veteran of WWII and the current owner Dustin Wells also served in the military. Their company motto is "Like a pillar – you can rely on us. It is a privilege and honorto take care of your home and business!" This commitment to high standards is reflected in the many reviews left by happy customers.
Hopefully the weather predictions for the coming winter will be wrong and Texas will enjoy its usual mild temperatures. However, if the worst does happen you can rely on Pillar Plumbing to take care of your home, not just in the Kingwood and Woodlands area but now also in Humble. We strive to provide five star experiences on every job and we are now the best rated Humble plumber by far (look for yourself)!