We will be glad to answer your questions, feel free to use our online booking system to book an appointment. We look forward to working with you.
At Pillar Plumbing, we noticed that residents in the Humble area have had a terrible experience with other plumbers; therefore, we are prepared to answer all your questions before beginning any work.
Our Humble plumbing team offers fair pricing and quick response time whenever you make use of our plumbing services. For starters, we understand that plumbing concerns are some of the most immediate emergencies that homeowners need to deal with; therefore, we cater to you as quickly as possible.
With our plumber Humble TX team, you know what you are receiving and how much it will cost before beginning any plumbing work! We can repair any kind of plumbing issue and satisfy your home's needs with our plumbing services. Thus, whether your problem is a leaking faucet, a busted water heater, or you seek to update your home with water softeners or whole home water filtration systems, Pillar Plumbing has you covered.
We understand how important a comfortable quality of living is to Humble residents; therefore, we strive to safeguard our customers' convenience and comfort with reliable plumbing services. We only hire prescreened, experienced, completely qualified technicians to meet or exceed the highest industry standards.
We are the plumber Humble TX relies on because:
We talk to our clients before starting work.

We keep clients informed of our progress.

We guarantee 100% client satisfaction.
These values complement each task we perform.
It doesn't matter how complex your plumbing project, you can rely on us until the task is done correctly. Please don't wait to get our services today. Book with us now!
Contact Our Plumbers Today and Get A Quote!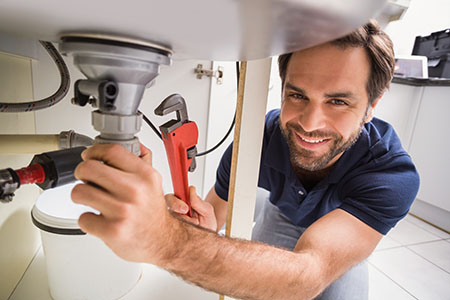 If you need plumbing services in Humble TX for your business or home, Our plumbers in Humble TX are here to help you. With many years of experience, we have everything necessary to get the task done correctly every time. Whether you have a leaky faucet, blocked empty, busted water heater, broken pipe, or some other plumbing problem, we will provide an effective and fast solution. We tackle any plumbing issues.
At Pillar Plumbing, our plumbers Humble TX loves consider a significantly different approach than you are used to. To deliver the absolute best customer experience, we don't merely provide exceptional finished work and high-quality products: we go the extra mile when it comes to treating you and your house with respect. 
Our Humble plumber team is dedicated to:
Listening to you and keeping you informed

Consistently being on time

Showing up ready and uniformed to work

Carrying the essential gear for the task

Keeping a neat workplace

Leaving your home in a better state of cleanliness
We will find the safest and cleanest way to thoroughly and efficiently finish your project.
When you hire a plumbing company, you should get a company that you can trust. And our company is one of the most trusted plumbing companies in Humble TX. Our licensed sewer and drain specialists have decades of professional experience you can depend on. Not only are we trustworthy, we are priced fairly too. Let a plumber Humble Texas has depended on for years install and restore your plumbing systems today!
Our business policy keeps an effective and efficient quality of work with all of our customers; we appreciate the value of the continuous education and training. We set and develop our goals and objectives consistently year by year. We strive to continuously get the results that exceed our client's requirements, satisfaction, and expectations.
At Pillar Plumbing, we are proud to offer the plumbing Humble TX has loved for years now. Whether you require new installations, expert repairs, or routine maintenance, the plumber Humble Texas can count on has all you need to obtain the task done correctly. Our commitment to offering clients the highest standards of finish-work and service is unstoppable, and we do everything in our power to ensure that the job we do is long-lasting, reliable, and complete.
For many years, our company has been providing excellent plumbing services. We believe that developing a lasting and reputable company is an enormous part of building strong relationships with our customers.
When you search for a group of plumbers in Humble TX that will manage it all, call Pillar Plumbing! With our years of experience in the business, we have the expertise and information to offer you plumbing Humble TX residents can love and rave about. Whether you have to unblock a drain, change a sink fixture, or install a brand new water heater, we are the plumber Humble residents believe in to make sure the task is done the first time correctly. We take great satisfaction in providing the best work in the area, with the most competitive rates.