We will be glad to answer your questions, feel free to use our online booking system to book an appointment. We look forward to working with you.
Pillar Plumbing is the trusted brand in plumbing, from fixtures fitting to trenchless sewer repair. Our cost-effective plumbing strategies tend to be delivered by a group of licensed and experienced plumbers in The Woodlands, TX, and close by areas for your peace of mind.
Each time you need plumbing repair or water treatment service, you will need a plumber offered by Pillar Plumbing. We are confident about the job we do, so we provide a 100% quality satisfaction guarantee. Our Woodlands plumbing team has been delivering outstanding plumbing services for many years.
We are among the best plumbing businesses in The Woodlands, TX, and the neighboring areas, which are accredited and certified by top names within the market.
Plumbing issues come up during the most unexpected moments in your home. And we know how frustrating it is to have a clogged toilet or no hot water in your shower. That is why our plumbers are just one call away! The last thing you want to be concerned about is being under duress to find licensed and bonded plumbers with an availability on their schedule, which is why we are dedicated to providing outstanding plumbing repair services at affordable prices. Call us, and we will be right in front of your door to assist you with any plumbing concerns you have.
We consider our jobs seriously. No plumbing matter is too large or too little for our insured and licensed workers to manage, whether trenchless pipe lining or an entire trenchless sewer replacement. We create customized, reliable ways to get your plumbing system operating like brand new again. We make sure that your plumbing service choices fit your budget and needs.
Contact Our Plumbers Today and Get A Quote!
Pillar Plumbing is at your services when plumbing repairs demand attention. Our skilled plumbers are equally prepared to update existing plumbing systems or enable you to determine how to replace fixtures that are no longer useful.
Needing immediate plumbing assistance does not mean being forced to stretch your budget. We continuously keep our rates reasonable and upfront with all plumbing-related services we offer.
Our plumber The Woodlands TX team delivers outstanding plumbing maintenance in the area for many years. We take pleasure in offering an extensive range of services which comes at reasonable prices. Please get in contact with our plumbers by calling us or through email. We look ahead to scheduling your appointment and providing you with the solution your house requires.
Locating a dependable plumber The Woodlands contractor in your area shouldn't have to be a pain. At Pillar Plumbing, we make your choice easy by providing an incredible experience. We do not merely claim to offer excellent service—we genuinely care about our work and customers with your most significant interests in mind.
Meeting your requirements and making sure you are entirely pleased with our service is our main priority! The Pillar Plumbing team offers a complete focus on the issue at hand. We are not content with merely doing the bare minimum and moving off to the next job.
Our objective is precisely the same as yours: To enable you to enjoy the comfort of your house. You can rely on us to offer you a pleasant, straightforward experience.
The last thing you will need in your hectic schedule is a plumbing problem. When you need quick help, call our expert plumber The Woodlands professionals. We will go over your requirements, and we will work out an answer that is ideal for your circumstances.
Our team is proud to serve The Woodlands, TX, and the surrounding areas. There is no job way too little or too complex for us to fix. We have the advanced gear & technology to perform from water leak detection to trenchless sewer fix. Regardless of what you need , you can depend on us to get the task done appropriately and at a lot of quality.
We know that your home's requirements can be completely different from those of your neighbor. The age of your home and The Woodlands plumbing system, your very own personal preferences, and your finances all promote the service type we recommend and carry out.
Your plumbing system is one of your business or home components that you do not have to consider until it stops operating. At Pillar Plumbing, we understand you can't predict when you will have an emergency. We are available anytime to resolve your unexpected problem. Whether you require a trenchless sewer fix or water line repair, our skilled plumbers have the experience and the equipment to care for your plumbing needs.
Contact Our Plumbers Today and Get A Quote!
Bathroom Remodeling The Woodlands TX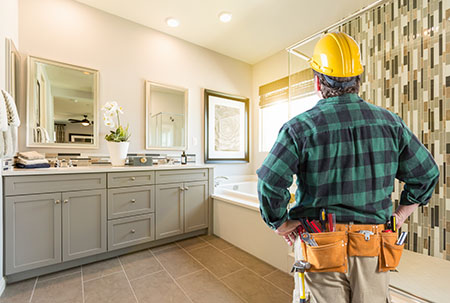 Flush away your old bathroom—at a price that will not empty your wallet. Our expert team can provide you with the elegant bathroom you have always dreamed of! Let us enable you to turn your visions and ideas into a reality. You will like our dependable service and excellent artistry. You will be surprised how much a new bathroom can change the appearance and feel of your house!
Our bathroom remodeling The Woodlands TX services cover from the original design and setting up your bathroom remodel to installing fresh sinks, showers, and piping, all needed construction, and building and other things including:
New appliance and fixture installation
Plumbing services
Tubs
Toilets
Piping
Showers
Bath or tub drain installation
Renovations
Drain installation
Additions
Our plumber Woodlands team can enable you to design and use your ideal bathroom renovation. We are fully licensed, bonded, and insured, and we are a remodeling company you can trust.
Our bathroom remodels costs can differ widely regarding your respective bathroom dimensions, the kind of modifications you wish to make, the quality and price of the supplies you want. If needed, we can advise you on changing your layout to ensure you receive the bathroom you like while keeping within your budget.
With our strong expertise in bathroom remodeling and our good connection with top business companies and suppliers, we can enable you to design and implement a design that enhances your tastes and lifestyle. Whether a modern-day contemporary or natural rustic or whatever your creativity and imagination can envision. With our expert plumber Woodlands team, we can make your dream bathroom a reality!
The Woodlands TX Plumbers
When searching for a reliable The Woodlands TX plumbers or plumbing business that provides expertly trained, qualified plumbers for any plumbing concerns, our plumber The Woodlands Texas experts has got you covered.
Our expert technicians are devoted to offering services you can depend on at a cost you can afford. We show when you require us and gladly provide same-day appointments and emergency services. Our skilled and licensed plumbers are trained to resolve every kind of plumbing issue, no matter what the size. 
Our plumber The Woodlands Texas team offers full residential plumbing services in The Woodlands and surrounding area. Our company is large enough to tackle all of your maintenance requirements, repair, and plumbing installation but small enough to offer the personal attention and service you demand.
We know the stress of unexpected and unknown expenses in your house. Our plumbers will evaluate your problem and offer options for replacement and repair. We are glad to offer free estimates for your plumbing fixtures or fitting, so you know the task's price. Unexpected plumbing The Woodlands disaster does not need to be devastating in your family's budget. We attempt to offer our customers choices for repair, which means you can find the solution that best suits your needs and finances.
Our objective is to deliver services for commercial and non-commercial plumbing in The Woodlands area tailored to each house's unique needs. Our plumbers The Woodlands TX, will advise you of your choices, help you choose the most beneficial items for your home, and tackle your installation, repair, replacement, and maintenance requirements.
Plumbers in The Woodlands
Plumbers in The Woodlands TX
Our plumbers The Woodlands TX proudly offer unparalleled plumbing services to residences and businesses of The Woodlands, TX. No issue is too large or little for our qualified technicians, with the knowledge and experience to address whatever problems you will encounter. We realize your home's plumbing rarely malfunction if possible, which is why we gladly give same-day appointments and emergency maintenance services.
Our professional plumbers in The Woodlands proudly exceed and beyond our client's expectations. Our friendly crew won't suggest services or products you do not need. The moment our scheduled service is completed, we offer recommendations on the best methods to maintain your property's plumbing system and ensure the system continues to operate effectively for decades to come.
Why do our plumbers in The Woodlands TX stand out from the others?
We Offer Honest Second Opinions: Our plumbers The Woodlands offer honest second opinions and suggestions tailored to your unique situation. Whether you have to resolve a clogged drain or require a significant sewer line overhaul, we will determine the most effective answer to get your issue under control.
Accurate Diagnosis: Before starting work, our plumbers The Woodlands will assess the issue and do comprehensive inspections to correctly diagnose the issue. After we have pinpointed the cause of the problem, we will discuss your choices with you.
Cost-effective Solutions: Our plumbers in The Woodlands work and follow repairs if possible and stay away from recommending replacements unless your system or the device is outdated. By concentrating on maintenance rather than replacement, you save money and enjoy updated plumbing products for more years to come.