The Plumber The Woodlands TX Trusts
We will be glad to answer your questions, feel free to use our online booking system to book an appointment. We look forward to working with you.
Your Woodlands Plumbing Pros
Pillar Plumbing is the most trusted plumbing company in The Woodlands, TX  from fixture fittings to trench-less sewer repair. Our cost-effective plumbing strategies are delivered by a group of licensed and experienced plumbers in The Woodlands, TX and surrounding areas for your peace of mind.
Each time you need plumbing repair or water treatment service, you will need a Pillar Plumbing expert. We are confident in the work we provide our clients, so we provide a 100% quality satisfaction guarantee. Our Woodlands plumbing team has been delivering outstanding plumbing services for many years. 
If you are looking for a trusted plumber in The Woodlands, TX look no further! Pillar Plumbing is a reputable plumbing company with over 500 five star reviews, we have been in business since 1949. Pillar Plumbing is veteran owned and is operated by family, we love serving our community and would enjoy the opportunity to serve you. We offer a wide variety of services such as water heater installations and repairs (tankless and tank style), bathroom remodeling, garbage dispose repair and installation, lap leaks, toilet clogs, sewer systems and much more. Pillar Plumbing is an expert in all plumbing areas and we won't offer a replacement unless it is absolutely necessary. The Woodlands, TX residents can trust that Pillar Plumbing will get the job done right first time and all at a competitive price, we strive to be the best! Pillar Plumbing has vast experience and continuously train to ensure they are up on the latest technology advancements plumbing has to offer! 
At Pillar Plumbing we understand that plumbing difficulties can cause a great deal of stress and be a financial burden but we will treat your plumbing needs with the utmost importance and always leave our customers with a five star experience, that is our goal each and every time! We treat your home like we would treat ours, we always enter your home with shoe coverings and will leave it cleaner than we found it. The Woodlands, TX residents can trust that Pillar Plumbing has the most professional, honest, respectful, and knowledgable technicians. We include all homeowners in the plans to correct any plumbing issues and never surprise you with hidden fees. If you are worried about a plumbing issue don't wait to call Pillar Plumbing, let us relieve your plumbing stresses and gain you as a customer for life! 
Pillar Plumbing is The Woodlands, TX leading plumbing company because we are honest and hard working, our work speaks for itself. Over the years we have worked with thousands of homeowners and tailored to their specific needs because we understand that each family is different based on their budget and lifestyle. Pillar Plumbing offers a 100% customer satisfaction guarantee, we don't leave until you are completely satisfied! We also offer great warranties and actually stand behind our warranties. Don't hire just any plumbing company, hire the very best plumbing company. Pillar Plumbing can handle all of your plumbing needs, give us a call today! When you call and schedule a service you will receive an email and text confirmation with your appointment information as well as a text when the technician is on his way, and when he arrives. Pillar Plumbing offers fair upfront pricing with options for any job and you can count on our work being completed with products and workmanship above industry standards! At Pillar Plumbing we always get the customers final approval on work completed and always ensure the customer has understanding of how Pillar Plumbing plans to resolve their plumbing issues. Pillar Plumbings trained technicians send an emailed invoice on all work completed and the payment amount. This is all done with an attention to detail on each and every project! We want to leave The Woodlands, TX residents with a five star experience and trust that the work was done with pride. We would love to be your professional plumber in The Woodlands,TX you can trust that we can handle any job no matter how big or small! Give us a call today to schedule your service call and allow us the opportunity to present you with the best options for you plumbing needs! We look forward to gaining your business and trust. 
We are among the best plumbing businesses in The Woodlands, TX, and the neighboring areas, which are accredited and certified by top names within the market.
Plumbing issues can occur during the most unexpected moments! We know how frustrating it is to have a clogged toilet or no running hot water in your home. Pillar Plumbing would love the opportunity to solve all of your plumbing issues, no matter how big or small! When scheduling a service with Pillar Plumbing you can rest assured that you are hiring the best licensed and bonded plumbers. We always get you on the schedule as quickly as possible because we understand how stressful plumbing issues can be. Call us, and we will be glad to provide you with the most excellent customer service, plumbing repairs, and affordable pricing! At Pillar Plumbing we care about our clients in The Woodlands, TX and pride ourselves on the being the very best! 
Plumbing is our passion at Pillar Plumbing and we take our jobs very seriously. All plumbing jobs are handled with care and pride, our licensed and insured workers always leave your home clean and fully functioning! We create customized, reliable ways to get your plumbing systems operating like brand new again. We make sure that your plumbing service choice fits your budget and needs. 
Contact Our Plumbers Today and Get A Quote!
Pillar Plumbing is at your services when plumbing repairs demand attention. Our skilled plumbers are equally prepared to update existing plumbing systems or enable you to determine how to replace fixtures that are no longer useful.
 Immediate plumbing assistance does not mean being forced to stretch your budget. We continuously keep our rates reasonable and upfront with all plumbing services we offer. We keep your budget in mind while helping you navigate which options are best for you, we provide you with understanding of each project to ensure you are completely comfortable before we start work. 
Our plumber The Woodlands TX team has been delivering outstanding plumbing maintenance in the area for many years. We take pleasure in offering an extensive range of services which comes at a reasonable prices. Please get in contact with our plumbers by phone or email. We look ahead to scheduling your appointment and providing you with the solution your house requires.
Locating a dependable plumber The Woodlands contractor in your area shouldn't have to be a pain. At Pillar Plumbing, we make your choice easy by providing an incredible experience. We do not merely claim to offer excellent service—we genuinely care about our work and customers with your most significant interests in mind.
Meeting your requirements and making sure you are entirely pleased with our service is our main priority! The Pillar Plumbing team offers a complete focus on the issue at hand. We are not content with doing the bare minimum, we want to go above all expectations to ensure complete satisfaction.
Our objective is precisely the same as yours: To enable you to enjoy the comfort of your house. You can rely on us to offer you a pleasant, straightforward experience. Check out our 250 five star reviews and see for yourself! 
The last thing you need in your hectic schedule is a plumbing problem. When you need quick help, call our expert plumber The Woodlands and schedule an appointment today! We will assess the problem and make a customized plan that fits your budget and immediate needs. 
Our team is proud to serve The Woodlands, TX, and the surrounding areas. There is no job too little or too complex for us. We have the advanced gear & technology to perform water leak detections to a trench-less sewer fix. Regardless of what you need , you can depend on us to get the task done the correct way with high quality! 
We know that your home's requirements can be completely different from those of your neighbor. The age of your home and The Woodlands plumbing system, personal preferences, and your finances all promote the service type we recommend.
Plumbing systems in your business or home often go unnoticed until something goes wrong, at Pillar Plumbing we are here for all your plumbing emergencies. We are available anytime to resolve any unexpected plumbing problems. Whether your hot water heater stops working or you need a water line repair, our skilled plumbers have the experience and equipment to care for any of your plumbing needs! Call us today or book online!
Contact Our Plumbers Today and Get A Quote!
Bathroom Remodeling The Woodlands TX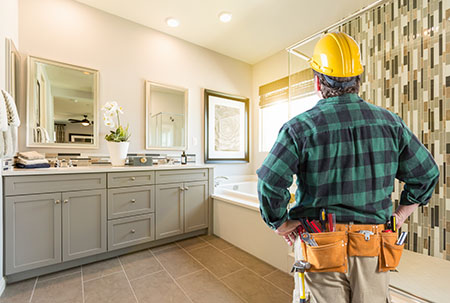 Flush away your old bathroom—at a price that will not empty your wallet. Our expert team can provide you with the elegant bathroom you have always dreamed of! Let us turn your visions and ideas into reality. You will like our dependable service and excellent artistry. You will be surprised how much a new bathroom can change the appearance and feel of your house!
Our bathroom remodeling The Woodlands TX services cover a variety of services to update your current bathroom. From updating original design to installing fresh sinks, showers, and piping. Pillar Plumbing are plumbing experts and can update your bathroom however you wish! We can make it more practical or more glamorous, it depends on your preference! 
New appliance and fixture installation
Plumbing services
Tubs
Toilets
Piping
Showers
Bath or tub drain installation
Renovations
Drain installation
Additions
Our plumber Woodlands team can enable you to design and bring your bathroom renovation to life. We are fully licensed, bonded, and insured, and we are a remodeling company you can trust. Our bathroom remodels costs can differ widely regarding your bathroom dimensions, the kind of modifications you wish to make, the quality and price of the supplies you want. We keep your budget in mind and create a personalized remodeling plan to suit you and your budget! 
With our strong expertise in bathroom remodeling and our good connection with top business companies and suppliers, we can enable you to design and implement a design that enhances your tastes and lifestyle. Whether a modern-day contemporary, natural rustic, or whatever your creativity and imagination can envision. With our expert plumber Woodlands team, we can make your dream bathroom a reality!
The Woodlands TX Plumbers
When searching for a reliable The Woodlands TX plumbers or plumbing business that provides expertly trained, qualified plumbers for any plumbing concerns, our plumber The Woodlands Texas experts has got you covered.
Our expert technicians are devoted to offering services you can depend on at a cost you can afford. Pillar Plumbing provides same-day appointments and emergency services. Our skilled and licensed plumbers are trained to resolve every kind of plumbing issue, no matter what the size. 
Our plumber The Woodlands Texas team offers full residential plumbing services in The Woodlands and surrounding area. Our company is large enough to tackle all of your maintenance requirements, repair, and plumbing installation but small enough to offer the personal attention and service you deserve.
We know unexpected and unknown issue in your home can cause a great deal of stress which is why at Pillar Plumbing we strive to exceed all our customer's expectations. Our plumbers will evaluate your problem and offer options for replacement or repair. We are glad to offer free estimates for your plumbing fixtures or fittings, with upfront cost and no hidden fees. Unexpected plumbing The Woodlands disaster does not need to be devastating in your family's budget. We attempt to offer our customers choices for repair, which means you can find the solution that best suits your needs and finances.
Our objective is to deliver services for commercial and non-commercial plumbing in The Woodlands area tailored to each house or businesses unique needs. Our plumbers The Woodlands TX, will advise you of your choices, help you choose the package that fits your budget and needs for your home, and tackle your installation, repair, replacement, and maintenance requirements.
Plumbers in The Woodlands
Plumbers in The Woodlands TX
Our plumbers The Woodlands TX proudly offer unparalleled plumbing services to residences and businesses of The Woodlands, TX. No issue it too complex or little for our qualified technicians, they are highly trained and knowledgable to handle any plumbing job! We understand how stressful emergency plumbing situations can be which is why we offer same day appointments and emergency maintenance services. Call or book online and find out just how competent our plumbers are! We have over 250 five star reviews to back our claims!
Our professional plumbers in The Woodlands proudly exceed our client's expectations. Our friendly crew won't suggest services or products you do not need. The moment our scheduled service is completed, we offer recommendations on the best methods to maintain your property's plumbing system and explain the entire process to ensure that you understand our plan before we begin work. You can count on our experienced plumbers to be upfront and honest with their recommendations.
Why do our plumbers in The Woodlands TX stand out from the others?
We Offer Honest Second Opinions: Our plumbers The Woodlands offer honest second opinions and suggestions tailored to your unique situation. Whether you need help with a clogged drain or require a significant sewer line overhaul, we will determine the most effective answer to get your issue under control.
Accurate Diagnosis: Before starting work, our plumbers The Woodlands will assess the issue and do comprehensive inspections to correctly diagnose the issue. After we have pinpointed the cause of the problem, we will discuss your choices with you.
Cost-effective Solutions: Our plumbers in The Woodlands work and follow repairs if possible and stay away from recommending replacements unless your system or the device is outdated. By concentrating on maintenance rather than replacement, you save money!