We will be glad to answer your questions, feel free to use our online booking system to book an appointment. We look forward to working with you.
Commercial Water Heaters and Boilers
Are you a business looking for service on a commercial water heater or boiler? Pillar Plumbing has vast experience in water heaters, boilers, and hydronic heating. Commercial water heaters differ from residential water heaters due to the complexity and often much larger rated water heating system. Most residential water heaters will use between 30k and 50k BTUs while a commercial unit could easily exceed 1 BTUs! There is a substantial difference in water and gas line capacity, proper venting, and intake air when installing a commercial water heater. If your business is looking to install a water heater Pillar Plumbing would be happy to answer all questions. Allow Pillar Plumbing to take care of your plumbing needs while you focus on your business! Call Pillar Plumbing today we would be more than happy to come give you an estimate and answer all your questions! We would be thrilled to help you repair, maintain, or replace your commercial water heater or boiler.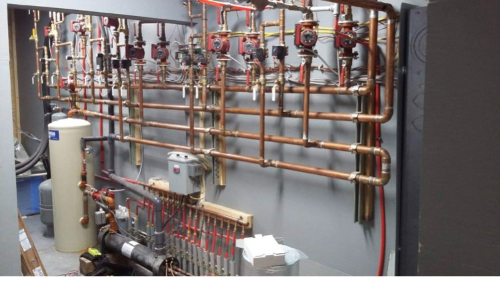 Are you a business owner looking for someone who can give you a hand with your boiler? Look no further – Pillar Plumbing has over 10 years experience in hydronic heating. A vast majority of this experience was servicing and installing large boiler systems for businesses. I've upload a few pictures of projects I have recently completed. Keep in mind that just because you have a boiler system, doesn't necessarily mean you need to replace it with something similar. With the new tankless water heater technology many commercial spaces are upgrading to a more efficient, longer lasting and space saving design. On the Contrary, the boiler system is a proven piece of equipment that will give you years of hot water. If the equipment you have is in decent shape but simply giving you problems you may simply need service. With a routine maintenance schedule you can keep your system running top notch and providing hot water without the headache and cost of breakdowns. Set up an appointment with Pillar Plumbing and have an experienced plumber provide you with the best options available. Call Pillar Plumbing today to service your commercial boiler system.
What is a tankless water heater and what are the benefits?
Most water heaters installed in Kingwood are located in the attic which can be a bit disconcerting to the home owner due to having 40 to 100 gallons of hot water suspended over your home. Other homes have their water heaters in utility rooms or garage.
With water weighing approximately 8.3lbs per gallon, you would have over 800lbs of hot water over your beautiful home or business! This is one significant disadvantage to a traditional tank style water heater. 
A tankless water heater has many great benefits, one of which is efficiency improvement! Many tank style water heaters are only 70% efficient out of the box. You may not know this but a tank type water heater will continue to heat your water over and over even when you are not using it! 
A tankless unit are for more efficient, durable, and comes with an outstanding warranty! A number of tankless units have a 15 year heat exchanger warranty and a 5 year part warranty. Pillar Plumbing can answer all of your warranty questions!
In sum – tankless heaters are more efficient, less weight, less risk, longer lasting and did I mention endless hot water? That's right – as long as the faucet is on you have endless hot water. That's the beauty of a tankless water heater – you can now fill that large tub without running out of hot water! Call us today to schedule your free in home estimate. Contact us with this link.
Pillar Plumbing is a local water heater company that is insured, bonded, and licensed. We have perfected the installation of water heaters in Humble, TX and are prepared to service your home! You will receive high quality work at a reasonable price, Pillar Plumbing strives for excellence! 
Our quest at Pillar Plumbing is to exceed customer expectations during  installation or the maintenance we carry out as your water heater services provider at Pillar Plumbing. We are driven by service, not commission, and are dedicated to offering the highest degree of service for every project. Give us a call today and find out just how qualified we are in water heater services! 
Our experts' crew are highly educated, experienced, and skilled in any tankless water heater repair Humble TX or any water heater Humble TX you have in your home. Pillar Plumbing is consistent with our training and repair strategies to ensure we are keeping up with technology regarding water heaters in Humble, TX. If you are needing service for your water heater in Humble schedule a service call to allow us the opportunity to administer you with a comprehensive service plan explaining how we would resolve the issue.
If you want tankless water heater repair Humble TX, replacements or installations our team of expert plumbers can help you! You can trust that our plumbers honest, knowledgeable, and prompt. They will guide you through the best solutions that align with your budget and needs, answering all of your water heater questions.
Set up an appointment today and one of our expert plumbers will come conduct an analysis, present you with solutions, and allow you the opportunity to ask questions better enabling you to chose what is best for your home! Our analysis includes a straight forward outline of what the job will consist of and the cost, with absolutely no surprises!
Contact Our Plumbers Today and Get A Quote!
Water Heater Installation
Tankless Gas Water Heater Installation Kingwood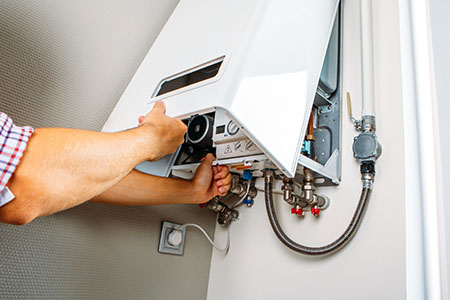 A traditional water heater typically uses a big storage tank of fifty gallons or more that is heated. Generally, these tanks keep enough hot water to accommodate a small family. We have all been victims of cold shower shock! These old heaters are quickly depleted and take time to reheat and refill. 
A tankless water heater heats water as needed, removing the necessity for a bulky water tank. When  hot water is needed , the tankless water heater pulls cold water into the heater, circulates it, and brings it up to temperature! If you are planning to change your water heater and are searching for an energy efficient device that would save you money and space get a tankless gas water heater installation Kingwood from us!
Tankless water heaters have unique installations requirements and are smaller than conventional tank heaters. Thus, they are easier to store in more locations.
Like any other kinds of water heating units, tankless devices must get constant maintenance to ensure their life expectancy prevents catastrophic failures. Tankless heaters can last as much as 20 years if maintained yearly.
Regardless of the problem or situation,  Pillar Plumbing offers tankless water heater repairs, installations, and maintenance! We also service the Atascocita area! 
Tankless vs Tank Type Water Heater
I often get asked why tankless? Or what is the benefit of tankless versus a tank style water heater? At the core of a water heaters function they are similar, they provide your home or business with hot water! However the means in which a tankless water heater heats water is quite different than a traditional water heater.
Beyond the obvious of heating water (duh)! Lets compare some of the advantages and disadvantages.
Pros: Tankless – endless hot water, higher efficiency, longer lasting, eliminates large storage of water in home, space saving design, can be installed outdoors
Pros: Traditional tank water heater – more budget friendly, proven design, simpler installation, provides hot water to each fixture quicker, safe.
Cons: Tankless – more expensive, requires good water treatment, more technology / moving parts (more to go wrong), delay in hot water to each fixture
Cons: Traditional tank water heater – liability of 40+ gallons of hot water in home, less efficient, shorter life span
This is by no means an exhaustive list, but the key points are certainly address in the tankless vs tank battle. So which water heater is best for you? This is really a personal decision that an experienced plumber at Pillar Plumbing would gladly go over which would be best for your home or business based off of usage, hot water demand, budget, and installation engineering. We would enjoy helping you with either option! Call or email today and we can help you in making the right choice! And as always we offer some great 0% financing options!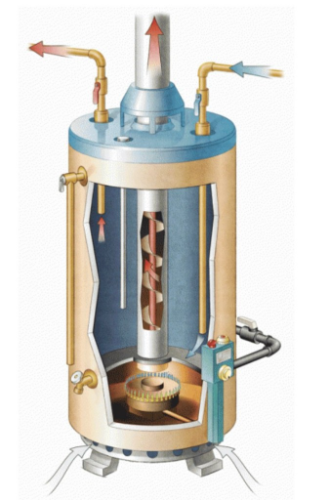 Hot Water Heater Repair Kingwood
Water heaters do not stop providing hot water when it is wearing out. Some other symptoms can suggest it is time for a fix. Paying attention to your water heater's behavior can help us catch and repair a minor problem before it turns into a huge one!
Here are few signs that your water heater needs a repair:
Tapping sounds
Rising water within the unit
Water leaks
Problems with water temperature
Shutting off
Operating continually
High energy costs triggered by an inefficient heater
Gasoline leaks
Although replacement might be a better choice for your family, our team won't ever recommend a job you do not need or cannot afford. We will concentrate on your budget, needs, & demands of your house as we suggest maintenance work. More importantly, we all work with an assurance, which means you can be sure that it will keep going! We also understand how inconvenient it could be waiting for a plumber all day long. We will arrive on the regular schedule and complete the task right on time.
Our hot water heater repair Kingwood include:
Pressure release valve maintenance and replacement
Replacement and ignition system repair
Replacement and anode rod repair
Thermostat repair and replacement
Replacement and drain valve repair
Water shut off valve replacement
Gas turn off valve replacement
Pillar Plumbing has been doing hot water heater repair Kingwood for many years. Our team comprises several skilled and talented HVAC and plumbing experts in the area, able to supply the long-lasting water heater repair solutions you need.
Tankless Water Heater Upgrades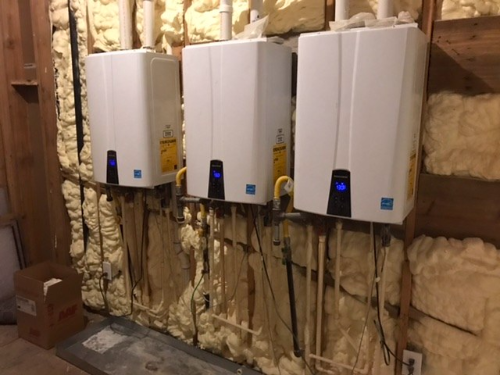 If your are in the market for a new water heater, tankless may be what you are looking for. Pillar Plumbing offers tankless water heaters that are a great solution for heating your homes or business's hot water. Tankless water heaters not only use gas more efficiently but are also great solution for hot water in the Houston area. Due to Houston's relatively warm grazing water temperatures, ground water for most of the Houston area averages about 70 ˚ year round. Thus a tankless water heater in Houston can work much less all while producing more capacity as compared to the other US regions. Additionally, many water heaters in Houston are stored in the attic! By installing a tankless you reduce the risk that comes with storing 50 to 100 gallons of water reserved above your home or business. 
Contact Our Plumbers Today and Get A Quote!
Water Heater Repair The Woodlands TX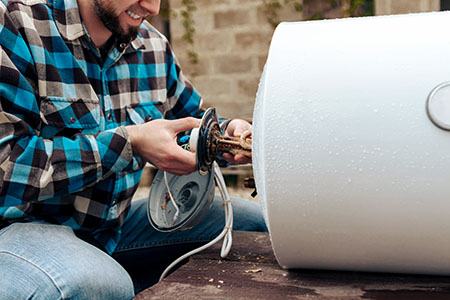 Our years of expertise can help ensure sure we will complete your water heaters repairs The Woodlands TX fast, professionally, and efficiently. Our reliable technicians can get your water heater operating at its best. When your water heater is malfunctioning, please provide us a call.
Nearly all individuals do not give a great deal of thought to their water heater. It is generally an appliance in the attic or basement that takes up space—until it does not do the job correctly. It can end up being quite the headache!  Why is there water leaking from. my attic? Why can't I take a hot bath? Why is my tap water tinted orange?
But never fear—no matter what your water heater issue, our water heater repair The Woodlands TX technicians can take care of it.
You will find a few indicators your water heater could be displaying signs of damage like:
Water is leaking from your water heater
Banging/rumbling seems if you run the warm water
There is an unpleasant smell from the warm water tap
Unreliable hot water
Lukewarm water
Rusty water
But occasionally, a repair will not cut it, and you want a brand new device. Pillar Plumbing offers the best models in the market for your replacement needs.