We will be glad to answer your questions, feel free to use our online booking system to book an appointment. We look forward to working with you.
Do You Have a High Water Bill?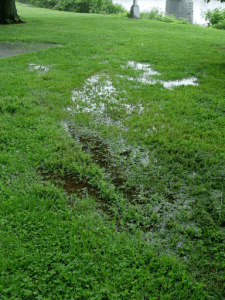 The Kingwood area is notorious for high water bills…. we've all seen the bills and heard the stories. Often times we don't have an explanation and the city is not cooperative in resolving the problem. There are a handful of things you can do to determine if your high water bill more than a faulty reader or improper reading. To begin the obvious culprits that contribute to a high water bill are leaking faucets, dripping valves, toilets continuously running and lawn irrigation over use or leaks. What can you do to double check your plumbing for unwanted water use? To begin check the water meter. If everything in the house is off but the red dial continues to move (even just slightly) you likely have a leak somewhere. How can you isolate a leak that is causing a high water bill? The next step would be shutting the valve to the house off. This will tell you if you have a leak in your water service, unlike the picture above there is not always pooling water that makes the leak obvious. So with the main house valve off if the meter keeps moving you have a leak somewhere between the meter and house (sometimes in irrigation systems). If you shut the house valve down and the meter stops then you know the leak is somewhere within the building. Most people ignore the leaking and dripping faucets… this obviously is 1 factor that should be addressed to avoid wasting water and help reduce the overall monthly water cost. Some of the less obvious are continuously running toilets (perhaps over filling) or a leaking flush valve. A toilet that overfills can often be heard and can be adjusted if the toilet fill valve is good. The leaking flush valve or often referred to as a leaking flapper can be harder to catch. Does your toilet ever fill when nobody is using it? The toilet leak attributing to high water consumption may be more subtle. Try adding a few drops of food grade dye into the tank, if you see color in the bowl shortly after you have a toilet problem. These are just a few tips to help diagnose why your water bill is so high. It's all tied to your plumbing system and can sometimes be difficult to find or diagnose. Give Pillar Plumbing a call today to help solve your water bill dilemmas.
Slab leaks are a huge enemy of anybody's home. They are difficult to identify, often they tend to leak for weeks before a homeowner notices them. With Pillar Plumbing, we provide quality repair and have the necessary equipment to help you with your Kingwood slab leak concerns. 
The average person uses 80 to 100 gallons of water every day. When a plumbing system features a slab leak, it can trigger water use to rise, and costs increase, but those are not the only signs. You can also notice:
Unexpected spikes in your water bill

The sound of a running faucet when piping isn't in use

Mildew or moisture under carpet

Standing water around the perimeter of your home

Shallow water pressure

Warm or damp floors

Mold problems or moldy smell
If any of these signs put up a red flag, give our plumbers a call for a pro diagnosis and professional slab leak repair.
Even if you are uncertain whether you have a slab leak, you need to call our team to ensure that one is not creating harm to your home's base. We will determine whether you have a slab leak and use the least intrusive method to correct it. We understand how stressful it can be to have your house's flooring damaged during a repair job, so we are cognizant of our workspace while finishing repairs to induce as little harm to the surrounding areas.
Every plumber through Pillar Plumbing is licensed, skilled, and highly-trained. Our company is referred to as the punctual plumbers since we value your time as we love ours. An iron-clad satisfaction guarantee backs up every plumbing repair. We won't leave your property until you are satisfied! 
Contact Our Plumbers Today and Get A Quote!
Pillar Plumbing has plumbers that are seasoned specialists and all specifically trained with drip detection and slab leak maintenance. Our Kingwood Plumbers can effectively find your slab leak and fix the issue affordably and quickly. You can also reserve your appointment with us and discuss your choices in person for hassle-free and easy leak detection and maintenance. We offer professional services at the most competitive prices.
We know that not many things are usually more stressful to a homeowner than a leak that hasn't been identified. A busted water line does not cause harm to your home, but it is the root cause of a sudden spike inside your water bill. When finding a leak in your home, do not wait! Pillar Plumbing provides affordable and reliable slab leak detection.
Your house's concrete foundation acts as a short-term barrier between your house's leaking interior and water source. The quicker you work, the better—to reduce water waste, improve water bills, energy bills, and reduce extensive water damage to your house.
It is essential to contact the most experienced plumbing company with the most advanced leak detection equipment readily available because a slab leak can be tough to spot. You can count on Pillar Plumbing being there for you before and after each task. All of our jobs are guaranteed.