We will be glad to answer your questions, feel free to use our online booking system to book an appointment. We look forward to working with you.
Live in Kingwood? Have a Slow Drain or Drain Clog?
Kingwood drain cleaning can be a very challenging project. Why? Because of the various forms of piping found within the Houston area. Kingwood in particular may have sewer lines composed of everything from clay tile, cast iron pipe, pvc pipe, copper pipe and more.
Different types of pipe have various life spans, some pipe such as cast iron have failure rates that can lead to drain lines backing up in your home. Causes of drain clogs may be roots, soaps, hair, foreign objects flushed down the drain or any variation thereof.
Another common source of sewer back ups in Kingwood – may be pipe failure, crushed pipes, fitting failure, pipe belly or other similar breakdowns in your drainage and plumbing system.
The great news is we can help! Pillar plumbing can clear your drain or even use special machines to help clean your drain. We have a variety of drain services that range from a sewer machines (snake machine), sewer cameras, and sewer jet machine.These machines are designed to clean and clear your drain lines. 
Pillar Plumbing is equipped to solve all your drain problems. All of our drain repairs and drain services are backed with a solid warranty and fair upfront pricing!
What's the Difference in the Types of Drain Cleaning Services?
There are a wide variety of products on the market used for drain cleaning and drain services. Pillar Plumbing has a whole host of tools, equipment and products to get your drain problems resolved. Let's discuss what are the differences in the drain machines and what are the benefits of them? To start the most common piece of equipment for drain clearing is a sewer machine. This has a variety of names from sewer snake, drain snake, drain cable, drain cleaner and more….. in sum this machine as pictured to the left  consists of a cable that is turned by a motor which allows for the flexible cable to travel through the plumbing system with ease. The tip of the cable can be modified with different attachments depending on the drain problem at hand. In Kingwood it's common to have drain line breaks, roots in your drain, grease build up or any other combination. A sewer machine can easily clear a drain with a series of passes and tips. Running hot water and reaming the pipe to help clean the pipe is wise. There are situations that a sewer machine is not up to the task…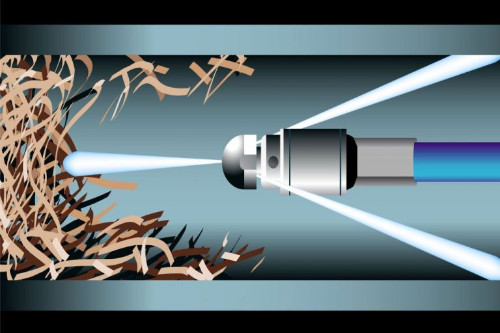 That's when a special piece of equipment known as a hydro Jetter, drain jet, sewer jet or simply a jet machine may come in handy. Pillar Plumbing can use a hydro Jetter that utilizes very high pressures and a special nozzle (as seen in the picture) to clear obstructions. A hydro Jetter can cut grease, soap, hair, roots and many other items that seem to find their way into your drainage system. Drain cameras are an excellent option to consider anytime your drain causes an issue. Your home or business drainage system is interconnected with stacks, laterals, buiding drains and mains. Any point in this drainage system (that is often hidden in walls and floors) can be prone to breaks or blockage. This is why anytime you have a slow drain or drain problem that requires some type of drain cleaning services, following it up with a drain camera is a very good idea. This will help you determine if it an isolated incident or will your drain continue to give you problems down the road? Drain cameras are also equipped with a locating sensor. This will help you to not only see the problem but also locate exactly where the issue is in your drainage system. Contact Pillar Plumbing today your #1 Kingwood Plumber! We have the experience and the tools to get your home or business drain cleaning service complete.
Drain Clearing Kingwood, TX
When you have a clogged drain, you will think that a cheap drain cleaner will solve the issue, but that might not be the case. Thankfully, you will find several proven drain cleaning methods that can help to eliminate those pesky clogs. Our team will examine the scope and the type of drain issue to determine the best drain cleaning method.
Snakes and Augers:

Properly used snakes and augers can prevent future plumbling emergencies. Drain snaking is commonly used to fix clogged toilets and sinks. Snaking is effective when clearing up minor blockages like tissue, hairs and breaking apart larger debris. Our specialists will use snakes with other equipment and augers to quickly clean up blockages and bring back proper flow.

Hydro Jetting:

It is essential that this strategy is done by an experienced plumbing specialist only. Hydro Jetting can't be done on pipes that aren't strong enough to endure stress.
Here are few tips on how you can prevent the need for drain cleaning:
Install a lint-trap

Consider a hair-stopper

Dispose of hot cooking oils in a used milk carton

Don't throw food items in your waste disposal. 

Wash your drains 
Over time and with regular use, these drains will begin to experience problems, from blockages and clogs to breaks and leaks. If this occurs, you must contact an experienced plumber for drain clearing. Pillar Plumbing is here to provide you with effective and efficient drain clearing Kingwood, TX. 
Contact Our Plumbers Today and Get A Quote!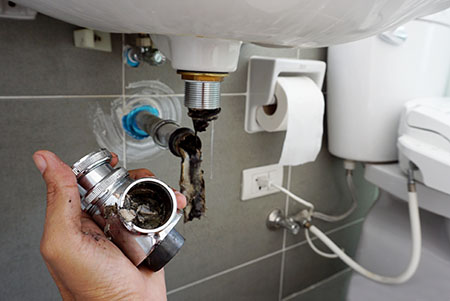 It is not always simple to locate a plumber you can rely on for decades to come. Have you been searching for a go-to expert who will be there for you whatever time of day, whether it is a crucial emergency or a minor concern? Pillar Plumbing is the perfect plumber for you. Your problem is our top priority and we make sure you are completely satisfied with the job performed! Our customer's satisfaction is what keeps our business successful!
As one of the most trusted plumbing companies in the area that provides upfront pricing, we offer honest second opinions and suggestions you can trust.
We provide you with a customized service that recognizes the cause of your issue with a personalized solution that takes into account your budget and needs. You will not be restricted to one solution. Also, we offer you various choices to select from, allowing you to determine what is most beneficial for your specific circumstance. Whatever option you pick, we will ensure the task is carried out efficiently and quickly, so you can go back to your routine with no hassle.
Are you worried that hiring Kingwood plumbers will leave your home a mess? Not if you hire Pillar Plumbing! We do our best to leave your home as clean as we discovered it. Our plumbers put on shoe covers before going into your building or home, and we maintain our work area as clean and secure.
To know more about our plumbing services, call or book online! We would love to gain your business!
Sewer and Drain Cleaning, Drain Camera, and Locating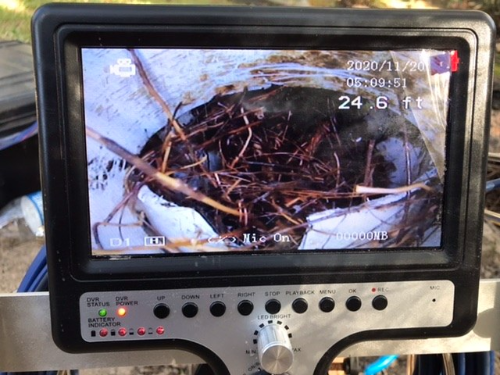 Pillar Plumbing LLC is fully equipped to handle your drain and sewer plumbing projects. We provide emergency services on drain cleaning and mainline drain stoppages. Our drain and sewer rates are amongst the best in the market and we service the entire North Houston area. On top of standard plugged drains and or slow drains we are also equipped with camera and locating equipment. This will allow us to pinpoint any ongoing issues such as roots in your drain, a pipe or fitting separation, collapsed drain lines and more! Call Pillar Plumbing LLC today to get your plumbing drainage system back in top working order! (713)-425-4185