We will be glad to answer your questions, feel free to use our online booking system to book an appointment. We look forward to working with you.
Shower Valve Repair and Custom Shower Installation
Are you looking for a plumbing company that can take care of your shower valve repairs? Or Are you considering upgrading your existing shower into a beautiful walk in custom shower? Look no further – Pillar Plumbing is a Kingwood, TX based plumbing company that specializes in shower valve repairs and installations. Pillar Plumbing can locate that hard to find shower cartridge and get your nuisance dripping faucet fixed! Additionally Pillar Plumbing can help to design and install the perfect custom shower. We have experience in rain heads, body sprays, mixing valves, multi zone diverter systems and more. Call us today to take care of any of you faucet, shower valve or remodel plumbing projects.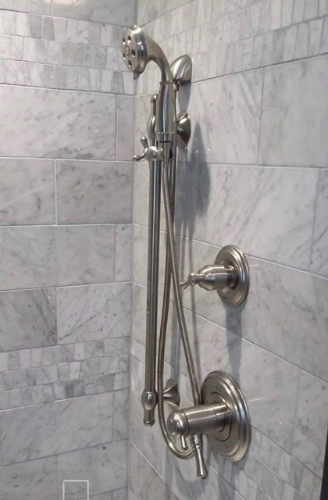 One very simple way to add value to your home is by simply upgrading your plumbing fixtures! Not only is this a great investment in your home, but it also creates that new sanctuary feel. Adding a fresh new look and comforting appeal doesn't have to be tens of thousands of dollars. With a little paint, trim and fixture upgrade you can have a brand new bathroom! In this particular case the client selected 1 piece flush base toilets for a sleek, modern look. Alongside that a free standing garden tub was installed for those relaxing baths. If you are looking at changing out some of your plumbing fixtures, feel free to call Pillar Plumbing today. We handle everything from shower valves, tub valves, kitchen faucets, bathroom faucets, toilets, water heaters, vanities and more! We would enjoy the opportunity to help make your home that place your look forward to going at the end of each day.
Bathroom Remodeling The Woodlands TX
We believe you need and deserve bathroom remodeling The Woodlands TX services that are a lot greater than merely functional. We will provide you with a bathroom you will be proud of and a bathroom that you can luxuriate.
Our contractors and plumbers are skilled workers that do top-rating work. We don't miss a detail—from the bathroom cabinet, to the sink to most of the finishings, like vanities. We can also work within any budget, whether you like a complete renovation or a minor update. Your wallet size doesn't matter—we will work with what you can afford to invest. And we won't stop working until you are satisfied, 100%! That is our promise. That is our assurance. We want you to hold the bathroom renovation you have always dreamed of, whether modern or standard. That is your decision. Any way you pick, we will deliver your dream!
The design and style of shower installation and the tub installation are among the tough decisions most homeowners have to think about. With our expert plumbers, we will help you decide what the best fixture for your bathroom is.
When we have finished the demolition functions, we can install your new showerhead or bathtub next. When you intend to change your tub to a hot shower, we suggest you possess a walk-in shower model. Furthermore, it is a dazzling contemporary look with space-saving features.
For your tub installation, you choose:
Corner Bathtubs

Alcove

Undermount

Drop-In

Freestanding
For the shower installation, there are loads of shower designs that you can select from. Your choice will significantly depend on the look and money of your respective renovation project.
Eco Shower

Digital Shower

Electric Shower

Mixer Shower

Thermostatic
Contact Our Plumbers Today and Get A Quote!
Bathroom Remodel Humble TX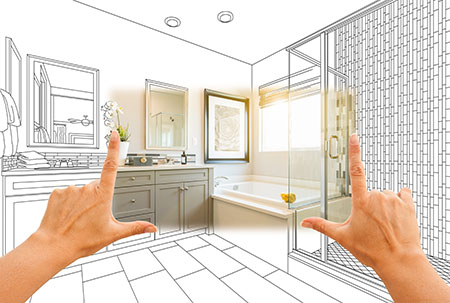 Pillar Plumbing combines several of the best bathroom remodeling and renovation products to satisfied your need—our bathrooms are created by our expert designers and build by experts. We have accomplished a lot of bathroom remodeling projects. 
Thus, we have way too many excited customers behind us. So now, we are looking ahead and wish to serve you.
Call us for the free in-house design and estimate. Our professional designers will help you to create your design entirely. We will be pleased to aid you with everything we have.
Our bathroom remodelers are experienced and highly-trained in each large or small upgrade readily available for your shower, toilet, tub, and other fixtures. Because we have professionally licensed bathroom remodelers offered for any remodel, and we can start your project near immediately.
We offer customized and inexpensive design, fabrication, and installation services for bathroom remodeling. We have been helping the area for many years. And we gain our reputation to be one of the trusted bathroom remodeling Humble TX professionals and plumbers that serve quality and inexpensive service at the same time. 
In case you want any skilled guidance, do not hesitate to call us. We can supply a free onsite estimate on your Kingwood bathroom remodeling works with no obligation. Talk to us whenever.